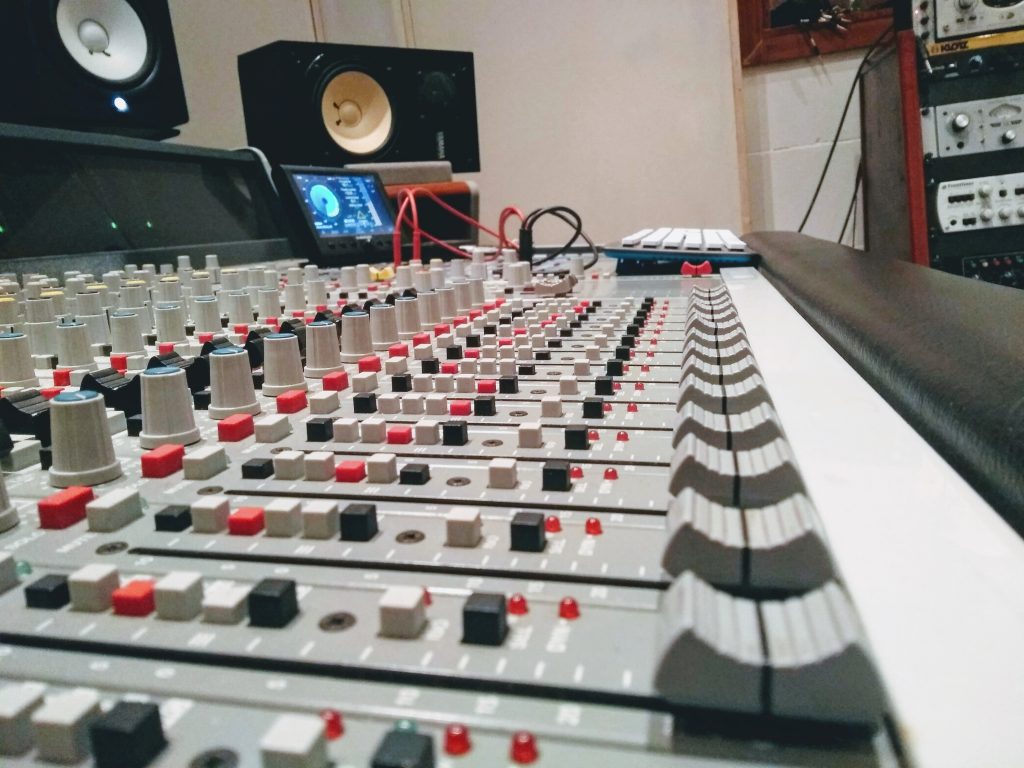 D&R Orion X 16CH Inline Console
Mac Mini M1 16GB
ANTELOPE ORION 32 Gen3
Motu 2408 MKIII
(40x A/D Inputs)
Yamaha NS 10 M Monitore (Sony Amp)
Yamaha HS80 Monitore + HS8S Subwoofer
1x Auratone C5A
More than fifty microphones, 32+ Pres, Outboard compressors and EQs as well Instruments and Pedals as followed:(we try to keep this List as "fresh" and current as possible)
Outboard:
-Furman PL8 /Furman PL8+ Powerconditioner /Samson Powerbrite Powerconditioner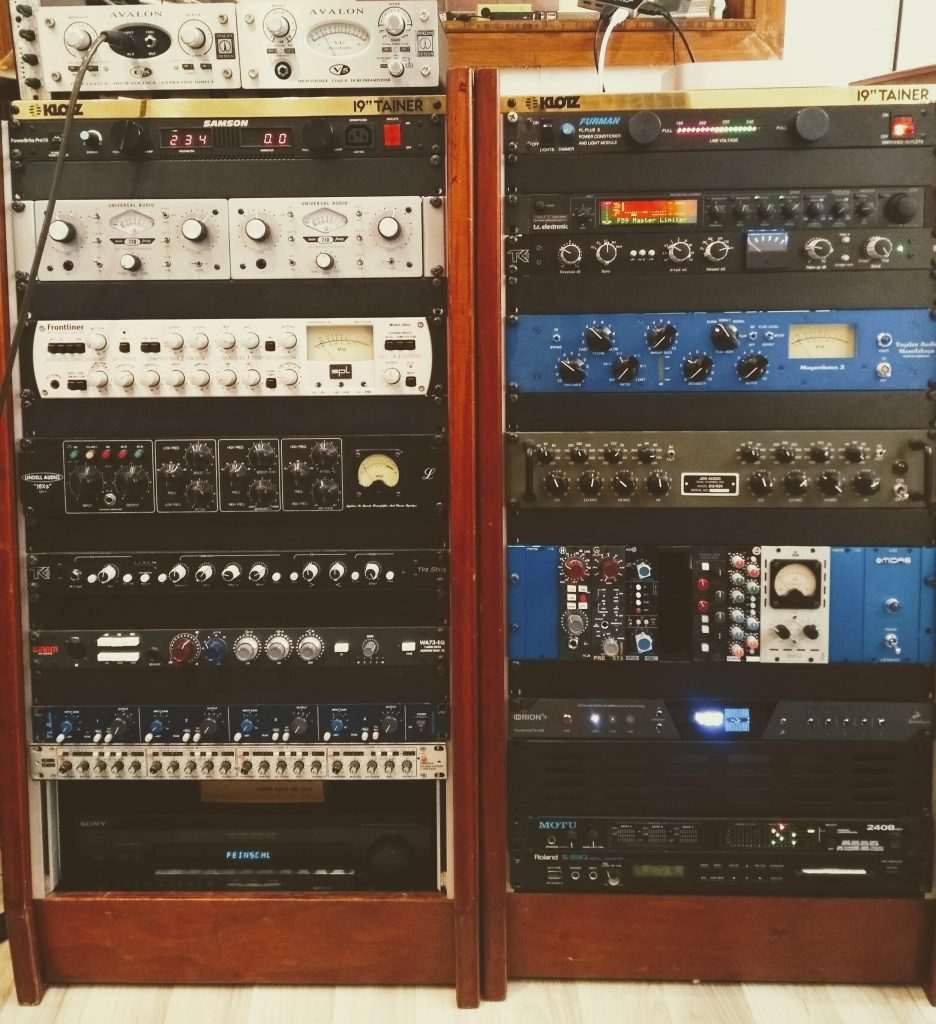 -Avalon V5 & U5
-UA710 (2x)
-SPL Frontliner 2800
-Lindell 18xs
-TK The Strip
-WA73EQ
-TC Triple C Stereo (SPDIF)
-TK BC1S
-Tegeler Magnetismus2
-JDK R24 EQ
-Purple MC77
-Klark KT76
-Distressor 8lx
-Valley 440 4x
-Klark DN504
-FMR RNC
-TC Triple C Mono
-Midas Legend 10 500 series:
1. Heritage 73Jr.
2. Golden Age GA573 Prem.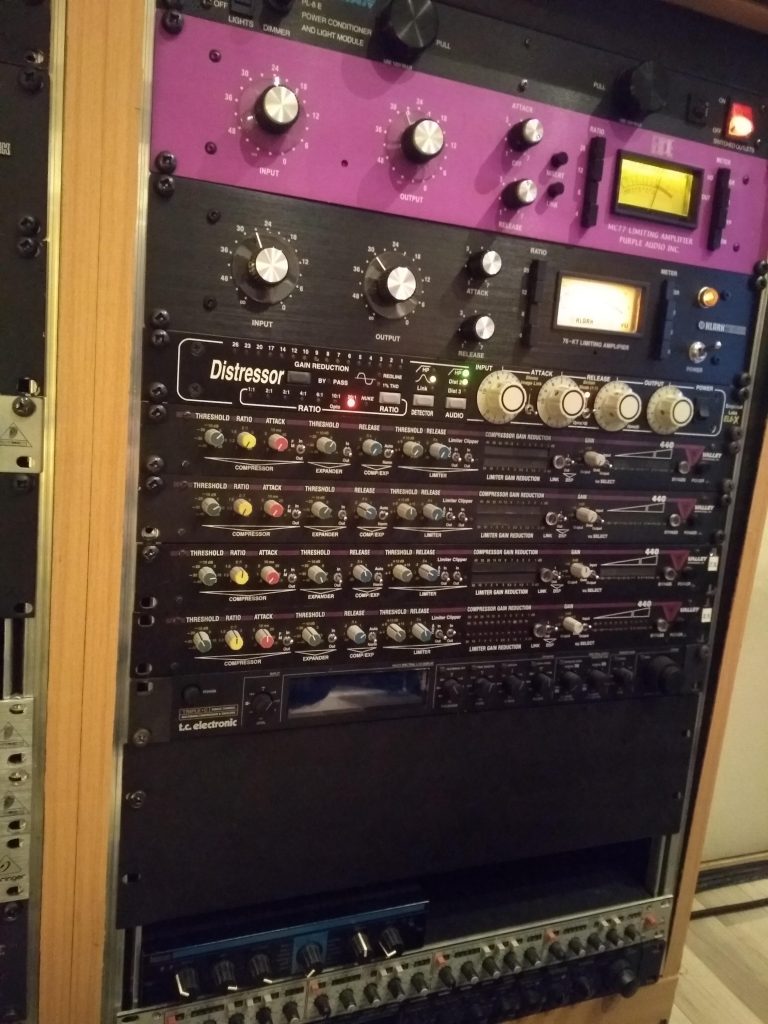 3. Capi VP28
4. Capi VP28
5. Trident 80b EQ
6. SL52x EQ
7. IGS LA50
-VestaKaza Spring
-Sony DPS R-7
-Lexikon LXP1
-Klark BBD 320 3dDimension
StudioRack:
-ART Headphoneamp 6x
-DBX 1066A (comp for headphones)
Microphones: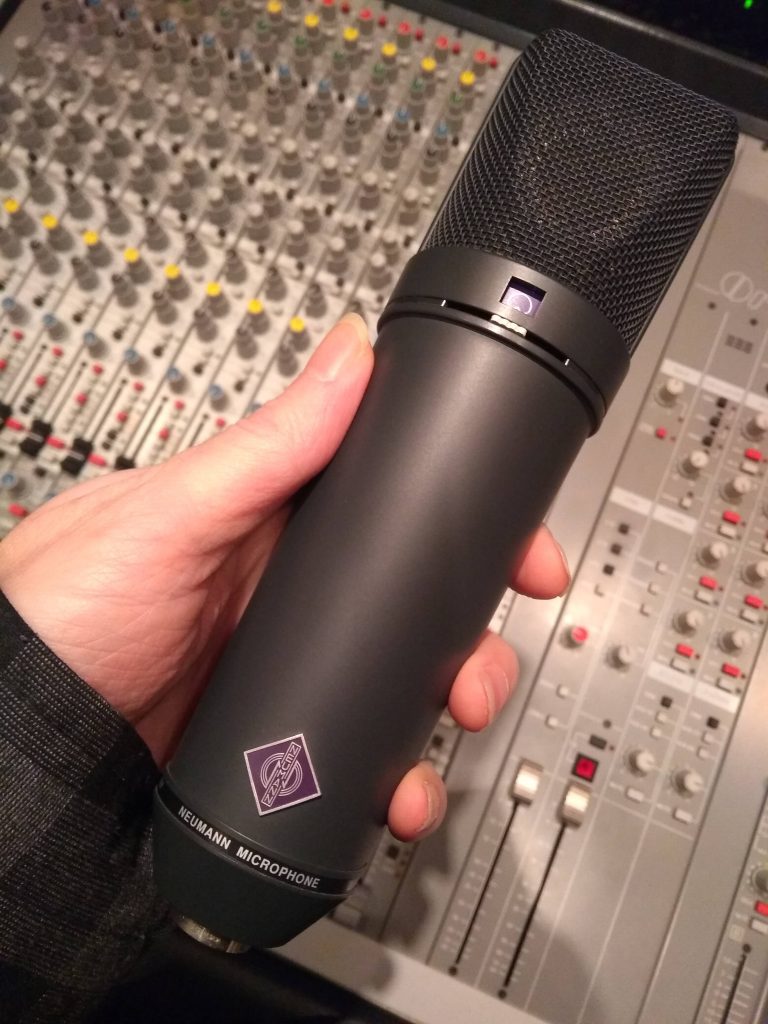 -Neumann U 87
-Neumann TLM 103
-Neumann KM184 (4x)
-Shure SM 7
-Shure SM 56
-Shure SM 57 (6x)
-Shure SM 58   (4x)
-Sennheiser MD421 (3x)
-Sennheiser MD441
-Sennheiser e604
-ElectroVoice                 PL20 & RE20 (2x)
-Electro-Voice N/D308
-Beyerdynamic M201 (3x)
-AKG Solidtube (2x)
-AKG C1000 (2x)
-AT ATM25
-AT 4040                            -Warm WA-47jr
-SchoepsCMC6 Clones(2x)
-Violet The Finger (2x)
-Strässer cm602
-Strässer cm507 (2x)
-Oktava MK-012 (2x)
-Oktava MK219
-Oktava ML-52-02 (3x)
-PlacidAudio Copperphone
-…lot of "Trashmics"
-Subkick Feinschliffstudio
…
-BSS und Klark DI-BOXES
-Radial X-Amp
Headphones:
-Beyerdynamic DT770 (4x)
-VIC FIRTH SIH 1
-Alesis / AudioTechnica / AKG
Effekte und Plugins:
-Uad 2/Spark
-Waves
-Brainworx
-etc….
Gitarren/Keyboard Amp/etc…:
-Roland Jazz Chorus 120
-Jet City Amplification Jetstream ISO12
…..(Also see Guitar&Bass-Equipment and Drum-Equipment in Download Section!)
-Stehhilfe: Mey Chair Systems AF-SR-KL-AH BK
-Korg Minidisc Player / Sony Tapedeck
-Drumhocker
-5x Gitarrenständer
-1xNotenständer
-2xKeyboardstand